Basic course
14-day (15 plus departure day) personal course during which each student lives in his own room and practices independently of the other practitioners.
The 10-day retreat
(plus arrival and departure day) is open to all meditators who have already completed the basic course.
Individual days of practice
It is also possible to come for a few days of meditation. However, please note that we give preference to meditators signing up for a basic course or a 10-day retreat. we can take reservations for individual meditation days on short notice only.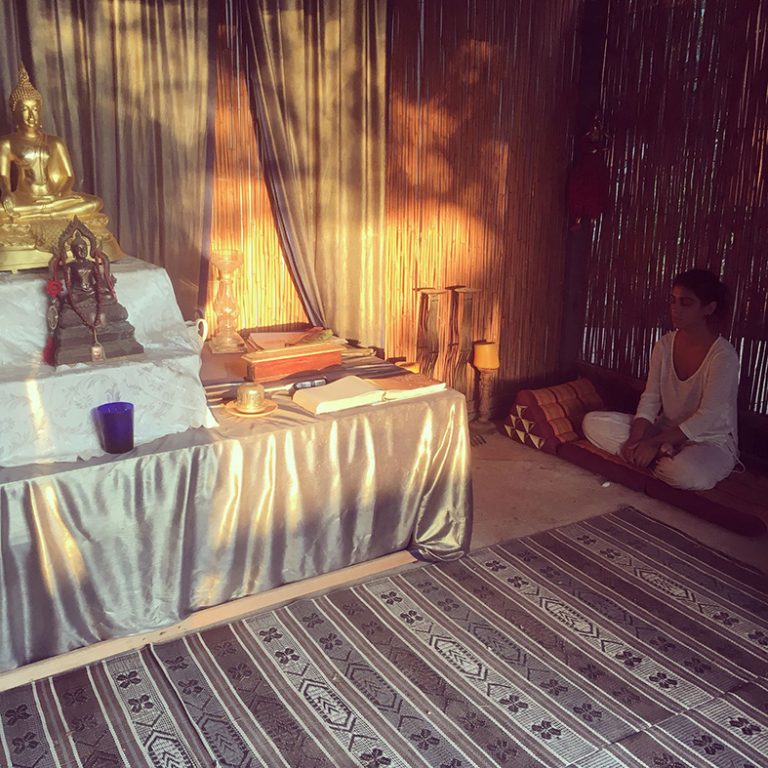 The course is conducted in Noble Silence.
Every day starts at 4 a.m. and ends at 10 p.m. During that time one practices continuously the meditation exercises. Participants receive individual guidance in daily reports with the teacher.
Part of the course is one hour working meditation per day.
During the course the focus lies on formal meditation practice in order to use the opportunity of gaining experiences directly from the practice. Participants refrain from reading, even Buddhist literature, as well as from mobile phones and other media.
Breakfast is served at 6.30 a.m. and lunch at 11 a.m. All meals are vegetarian.
The food is vegetarian.
During the day drinks such as water, tea, hot chocolate and coffee are provided.
During the entire course the participants should commit themselves to adhere to the eight Buddhist rules of moral conduct:
To abstain from killing any living creature
To abstain from taking what is not given 
To abstain from all sexual activity 
To abstain from speaking what is not true  
To abstain from all intoxicants (alcohol, drugs) 
To abstain from eating solid food after 12 noon 
To abstain from sensual entertainment (dancing, singing, reading, listening to the radio),
and bodily decoration (jewels, perfume, cosmetics) 
To abstain from sleeping on high or luxurious beds 
We subtract three elements:
Food – We do not eat after half the day (12 noon).
Sleep – we do not sleep from the time of waking until ten at night (although we can rest, lie down, and extract bones as much as we want).
Speech – We maintain the principle of noble silence – we do not speak during the course, when necessary and personal conversations can be spoken to the teacher or with the staff.
Clothing: Meditators should wear white clothes and should cover the shoulder and the knees and not be see-through.
Meals: You are not allowed to eat after 12 o'clock. Nevertheless there are some things which are allowed in the afternoon (i.e. yoghurt, chocolate, honey) and will be provided for you in the fridge for the meditators. Hot and cold drinks are allowed all the time.
Dinner is only allowed to people with special needs.
Telephone: Meditators are not allowed to use their mobile during the course and need to give it to the staff in the beginning. If necessary relatives can call to Liora.
Working meditation: The meditation retreat includes one hour (not more) of working meditation each day. This is to help us with the daily maintenance of the house and the garden, and also helps you to develop mindfulness when carrying out daily tasks. You can dress non-white working clothes for this period of time. The staff will inform you about your daily task.
If you have any special needs regarding food or anything else, please let us know as soon as possible and before starting the course.